The "Balinese Masters" exhibition presents important information on the development of Balinese painting – Art & Culture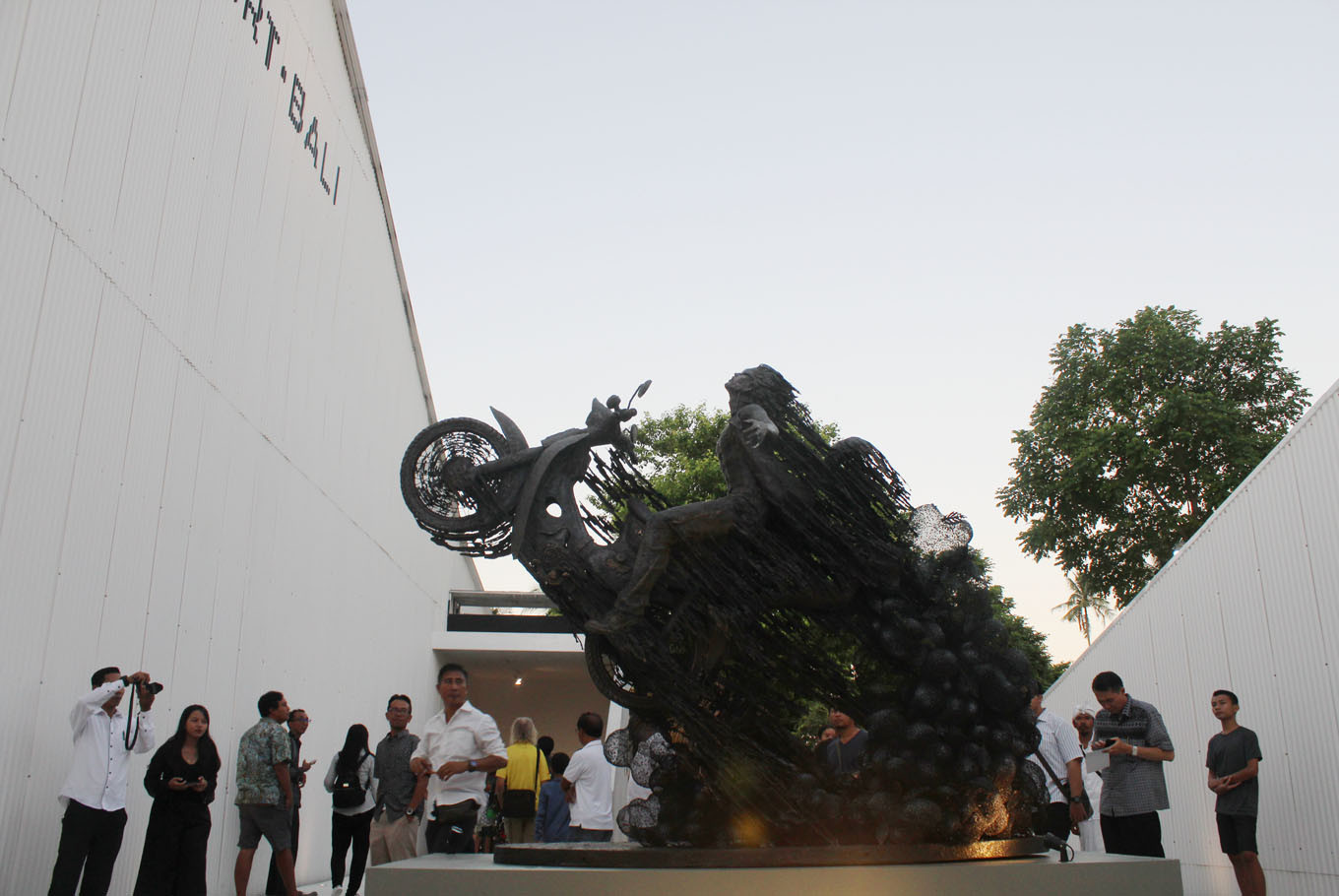 Balinese Masters: Aesthetic Trajectories of Balinese Visual Art DNAan ongoing display in Bali of installations, paintings, sculptures, drawings and objects by 34 Balinese artists and communities opened to the delight, as well as scrutiny, of many Balinese artists and indonesians.
The highly anticipated exhibition which opened May 25 at the AB•BC (Art Bali•Bali Collection) building, Nusa Dua, is the first in a three-part annual exhibition series that strives to define the historical development of Balinese visual arts. . The AB•BC building, a purpose-built international standard presentation space by the Indonesian Creative Economy Agency (BEKRAF), was inaugurated in October 2018 after two years of planning.
Balinese art was one of the main Indonesian cultural icons promoted in world markets during the development of mass tourism by the Suharto government in the 1970s. Its unique historical and artistic distinctions, however, have been overshadowed by its commodification, which has started in the 1930s during the first wave of foreign tourists to visit the island. Balinese art has remained largely unknown while being decried as popular tourist art.
The importance of presenting a world-class exhibition to global and local audiences in Bali, explaining the distinct development and essence of Balinese art, cannot be overstated. The huge task given to respected curator Rifky Effendy from Bandung, West Java, was to capture this as a type of timeline reading so that it could be easily understood.
Effendy's curatorial text states: "Through this exhibition, we can highlight various aesthetic and artistic achievements of Balinese artists, both [those] who still reside on the island and those who live outside. It is an attempt to examine and narrate the practice of creating fine art in Bali without subscribing to those conventional methods based on categorization, paradigm, art history or any other medium. "restrictive".
An essential communicative facet of this exhibition is the accompanying wall texts written by scholars, collectors, curators and local and international experts presented alongside some of the works explaining certain stylistic developments, as well as the impact of collectives, influential individuals and artistic events. The importance of studying the paintings, as well as reading these texts, must be emphasized as a guide to help understand such a huge and distinctive art history.
One of the great challenges faced by Effendy, who was assisted by renowned scholars, experts and artists like Agung Rai, Jean Couteau, Hardiman Adiwinata, Edmondo Zanolini, I Made Aswino Aji, Satya Cipta, I Wayan Sujana Suklu and Soemantri Widagdo, was to obtain works of master art from the definitive era of 1930-1945 from the influential artist collective Pitamaha and earlier classic works from institutions and private art collections.
The enormous time and energy required to do so therefore made it impossible to begin this three-part series at the chronological start of its development. Balinese Masters: Aesthetic Trajectories of Balinese Visual Art DNAbegins its visual description from 1950.
Excellent examples of how Balinese art evolved aesthetically after the 1950s can be seen in Love of Mother Earth, 2018, by Ketut Budiana, who took Balinese painting on its own innovative path by transforming the philosophies behind Balinese religious and folk tales into a unique visual language. All of the forms depicted in this composition of gold and Indian ink on canvas are in a continuous process of change – transforming from ether to the tiniest of vapors which eventually transform into denser physical matter (figures of Budiana) and then complete the eternal cycle and return to the invisible.
The second characteristic style of the most critically acclaimed Balinese painting genre – the Batuan school – is featured in the works of Made Budi and Wayan Bendi. The original style, developed in the 1930s, is relatively free of outside influences. These were religious themes and folk tales and others close to the hearts and minds of people's daily lives. Often dark and frightening, including magic, power and ritual, they were expressed in tones of black ink on paper.
Meanwhile, the 1970s miniaturist school created by artists Jata, Rajin and Murtika, Budi's modern themes under the influence of American photographer Leonard Lueras, introduced beach and surf scenes.
Bendi went further and introduced politics and its enormous Untitled2013, stretches almost 10 meters wide, a composition encompassing a universal perspective, reflecting a modern and bustling Bali with multi-ethnic and religious people, tourists and transformation technologies side by side with scenes of traditional Bali.
Read also: 'Balinese Masters': An Exhilarating Journey Through the Island's Fine Art Landscape
The pioneer of Balinese painting in the modern western setting was I Nyoman Tusan (1933 to 2003) who was the first to study modern art (1945 to 1962) at the Bandung Institute of Technology (ITB), West Java and later in Belgium. Cili Uang Kepeng,1995, by the intellectual, lecturer and civil servant characterizes his modern approach to Balinese ritual objects.
I Nyoman Gunarsa (1949 to 2017) also made important contributions to modern expressions of Balinese iconography by taking the static and rigid wayang (puppet) classic paintings and transforms them into dynamic forms with his modern action painting style. Unfortunately, his works on display are not his strongest.
Contemporary art sensibilities blended with Balinese philosophies, symbols and iconography when seminal works were produced in the 1970s by the pioneers of the Sanggar Dewata Indonesia (SDI) collective – Made Wianta, Nyoman Erawan and Made Djirna. Works from this era have not been included, but more recent works are.
A complete alternative in the aesthetics of the exhibition is Djirna's towering installation of over 2,000 faces carved in pumice stone, Wajah Wajah Mengambang (Floating Faces), 2019, which takes viewers into different experiential dimensions.
Other recent artists who deserve mention for their achievements in developing aesthetics are Gede Mahendra Yasa and Putu Wirantawan. Gugusan Energi Alam Batin 6.14.4.0192019, is a mesmerizing and eye-catching installation of pencil and pen sketches by Wirantawan.
Balinese painting from the Classical and later, more Westernized styles that emerged in the 1930s (the Batuan, Ubud and Sanur schools being the most prominent) is characterized by its storytelling function with the aesthetic characteristics of an art style based on the graphic drawing with the space of the canvas entirely occupied by the superposition of the patterns. The big shift from this was to a modern, non-narrative, patternless style of abstract painting based on colour, where the abstraction represents Hindu symbolism.
The powerful and beautiful mixed media works of Wayan Sika, one of an installation of nine paintings The essence of emptiness2019, measuring 600 by 360 centimeters, and the smallest no ego2019, as well as two beautiful, thrilling compositions by Wayan Karja, both titled cosmic energy, 2019, are very important inclusions and highlight the significant change that has not been clearly highlighted in the exhibit.
The title of the exhibition is perhaps a bit of a misnomer and one wonders what were the criteria that determined how the participants were selected, especially some of the young artists and artistic communities.
Due to the vast scope of the content, the presentation would benefit, upon entry, from instructions on how to read the exhibit.
Balinese Masters: Aesthetic Trajectories of Balinese Visual Art DNA is a beautiful presentation celebrating this fascinating art form that opens the door to the highly anticipated upcoming 2020 exhibition. Until July 14, it is an unmissable event for those who wish to know more.
***
Balinese Masters: Aesthetic DNA Trajectories of Balinese Visual Art
Open daily from 11 a.m. to 9 p.m.
AB•BC Building (Art Bali • Bali Collection)
Nusa Dua, Bali
Disclaimer: The opinions expressed in this article are those of the author and do not reflect the official position of The Jakarta Post.