Los Olivos Gallery Announces Painting and Sculpture Exhibition | Arts and Theater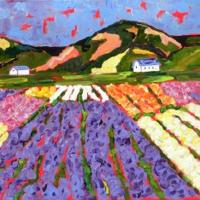 The September exhibition at Gallery Los Olivos is titled "Creating Happiness," featuring paintings by Mandy Weathers and sculptures by Tesi Sanchez-Halpert.
There will be an artists' reception from 1 to 4 p.m. on Saturday, September 4.
The show will feature the new Weathers flower shop series, Lompoc flower fields, whimsical scenes painted from water and many other subjects.
Weathers' paintings focus on the ever-changing colors and moods of the hills, fields and vineyards of California's central coast, the Colorado Rockies and the landscapes of France, Scotland and the islands of the Caribbean. She paints in watercolor and acrylic because these mediums allow her to create spontaneous colors and designs. His paintings include vivid, bold landscapes and dramatic flowers. Weathers' passion for color, flowers, architecture and landscaping are part of his works, which reflect his way of seeing the world.
"When I can bring my joy and happiness into a subject in someone's home through my painting, I'm sharing something special with others," Weathers said.
Sanchez-Halpert loves to make people laugh and celebrates life with his whimsical creatures.
"Now more than ever, after surviving a fatal stroke in 2004, I like to believe that I received a gift to create creatures that come to life from objects that others thought had lost their usefulness. "Sanchez said. – Halpert.
"Tesi takes the objects and tools of hard work and welds them together in a way that allows them to transcend and become a very personal statement," said Emeritus Art Professor Tom McMillin. "Each of these sculptures vibrates with humor and laughter. It's an art that makes you feel good and it's a constant joy to be around. His work reflects the insight of a visual poet with the spirit of a standing comic. His work is very sophisticated and yet borders on the hilarious. Picasso would have been envious.
"Like Tesi, his art is unique. She does not play into the trap of what is fashionable or considered good art. She does her own thing. It is certainly not common. Many artists draw or sculpt animals as they see them. Tesi sculpts them as she feels them. His works present life's special moments to you with insight and humor," McMillin continued.
The Los Olivos Gallery, located at 2920 Grand Ave. in Los Olivos, was founded in 1992 and is owned by an incorporated group of more than 40 member artists from Santa Barbara, San Luis Obispo and Ventura counties. It is open daily from 10 a.m. to 5 p.m.
For more information, call 688-7517 or visit www.GalleryLos