Kathy Butterly's original vases combine painting and sculpture at CAM exhibition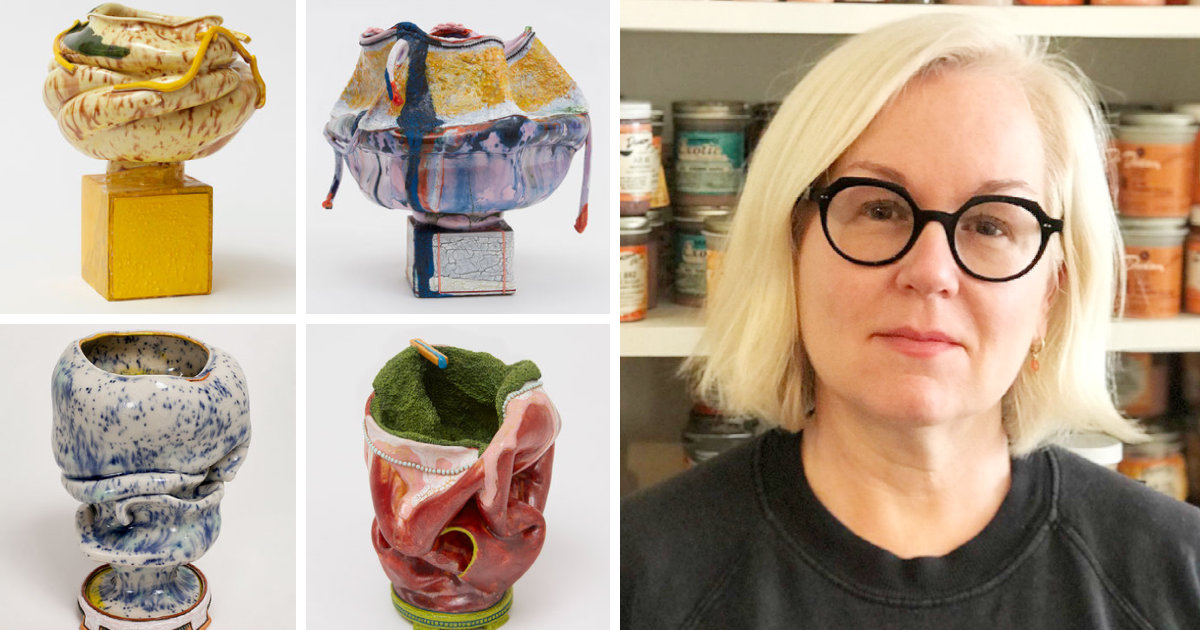 Kathy Butterly has made dozens and dozens of colorful 6 inch sculptures, but none are alike. She couldn't reproduce one if she tried.
"Never in a million years," she says.
In his workshop, a generic clay mug can be found in almost any color – or pattern of colors and textures. It can be adorned with shapes that look like ribbons, spaghetti, or twisted handles. "Foam", pom poms or a scalloped edge can cover corrugated or folded containers.
One of the reasons Butterly can't reproduce a piece is the uncertainty of what it will look like after its multiple trips through the 1,800 degree oven, where the paint can crack or change color unexpectedly. And when the clay cools, she says, she'll re-examine it and maybe decide to "go in new directions."
As early as 2002, a New York Times reviewer declared that Butterly, at 38, was "a genius in clay, stoneware and enamel, a miniaturist of Fabergé refinement and in his own way one of the finest artists of our time.
For another show, a reviewer wrote that with its "wacky and beautiful little porcelain vases, you become passionately interested, alive with curiosity".
Curious pieces by the highly respected ceramic sculptor will be part of new exhibits opening Sept. 3 at the Museum of Contemporary Art in St. Louis.
In addition to Butterly's "Out of one, many" and "Headscapes" exhibitions, CAM's exhibits will include paintings, photos and a video displayed on its façade:
• "On Edge" by Shara Hughes features large-scale paintings described as "a bridge between abstraction and representation". Hughes' first major solo exhibition in the United States, a "Harmony of the Organic, the Objective and the Surreal", will include prints and drawings alongside the paintings.
• Farah Al Qasimi will focus on photography with "Wherever there is splendor" on the Project Wall. The museum says she creates "alternative narratives of Arab culture, style, taste and interior spaces" and returned earlier this year to the United Arab Emirates to photograph her family home.
• From dusk to midnight, on the facade of the CAM, there will be "Heads" by Lorna Simpson, two digital animation videos that use cropped excerpts from back issues of Ebony and Jet magazines.
The museum will also highlight emerging artist Summer Brooks of O'Fallon, Illinois, and her sculptures that transform the Eurocentric features of models. Creations from local high schools will be on display with "New Art in the Neighborhood: Making Comics" and even the work of younger students in "LEAP Middle School Initiative: enMask & Mythos."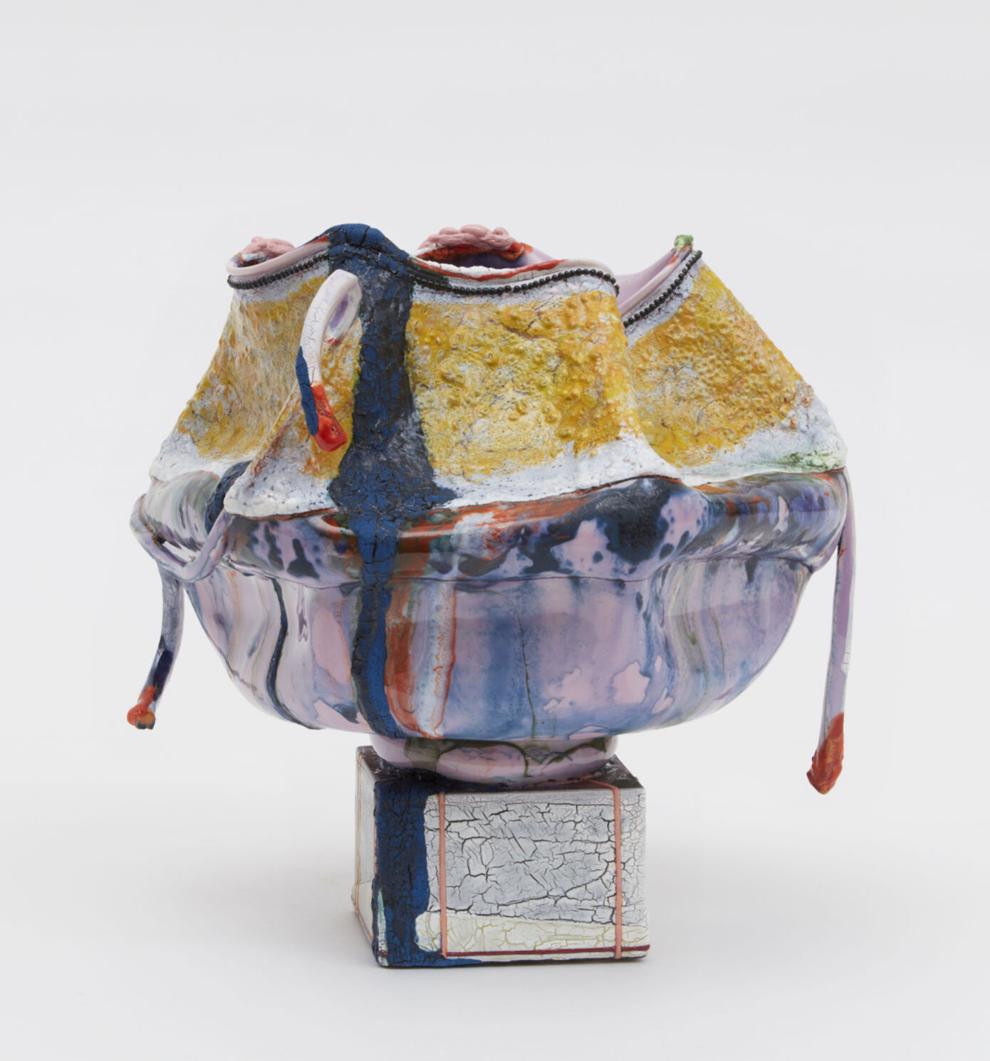 Butterly is thrilled that the new exhibits are all directed by women, even though gender hasn't dictated CAM's decisions. Butterly, Hughes and Al Qasimi will be at the opening, and at 11 a.m. on September 4 (reservations required), the ceramist gives an artist talk at the museum.
When Butterly spoke on the phone recently, she was in Maine with her husband, painter Tom Burckhardt, where she keeps two ovens (and has two more in her New York studio). She says she starts her day with a 15-mile or more bike ride to clear her mind, then gets to work.
Interested in color, line and shape, the artist, a follower of Renaissance paintings, says that "clay is a perfect link between sculpture and painting".
She first sculpts and sculpts a generic clay form "to get those beautiful lines in art." With decades of experience with enamels, she says she has a good idea of ​​what to expect. But Butterly has also learned not to make assumptions. The pieces are baked with a turquoise color and come out red.
Examining and reworking his pieces means that some sculptures are baked 30 times or more. (A Washington Post headline said she "tortures her own sculptures.")
"Sometimes I feel like I pushed them too far," she admits. "If I lose interest in the play, it's over."
All of his more than 30 works of art presented at CAM will not be 6 inches or less. With "Headscapes", the pieces can reach 12 inches. "They feel monumentally different," Butterly says.
These were inspired by his thinking of both planets and heads. They are mounted on cubes which the artist considers as a podium: "I want them to be equal to the shape on top."
Butterly estimates that she completes 14-16 pieces each year and produces new artwork for the CAM exhibit.
But viewers don't need to understand exactly how a work of art is made, she says.
"The goal is simply to accept them as they are. People may not know about painting or sculpture, but they can look at it and get a lot out of it. »
What Kathy Butterly: "Out of one, many" and "Headscapes"; Shara Hughes: "On Edge"; Farah Al Qasimi: "There is splendor everywhere"; Lorna Simpson: "Heads"; Summer Brooks: "The New Garden Variety"; and more by students • When Sept. 3-Feb. 13; hours are 10 a.m. to 5 p.m. Thursday, Saturday, Sunday; 10pm-8pm Friday • Where St. Louis Museum of Contemporary Art, 3750 Washington Boulevard • How much Free, but reservations required; walk-ins welcomed depending on availability; masks compulsory from 5 years old • More information 314-535–4660; camstl.org